The bag is the item that Doomed wears. Presumably, he wears this to disguise himself as a rubbish bag to prevent being noticed.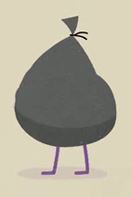 In the video, Doomed and his bag are hit by the bat.

Appearance
Edit
The Bag is a black trash bag that's tied in a knot on the opening; it is worn by Doomed In The music video, The App, and Dumb Ways To Die 3 World Tour while he wasn't removed.
In the game, the bag is worn by Doomed again in Train Station.
Putz wrote:
Or you'll end up like me!