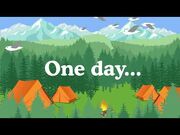 Camp Dumb is a video uploaded to the Dumb Ways to Die YouTube Channel in the 20th of August, 2021, as a promotion for the first application.
Plot
[
]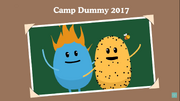 Numpty and Doofus were getting the firewood for the fire while Numpty tripped on a rock causing the wood to drop after that the piece of wood landed on the beehive then it fell onto Doofus's head, then he panics, Numpty then came back to the campfire but accidentally set his hair on fire. After that, he started running, he bumps into Doofus making the beehive pop out of his head, both celebrate, the video then cuts through a slideshow of the camp years from 2017 to 2021.
Characters
[
]
Deaths
[
]
Boffo is impaled by a javelin. (off-screen, debatable)
Hapless is about to get eaten by a bear.
Trivia
[
]
The photo for 2020 is empty due to the COVID-19 pandemic, and thus, no-one was able to go to the camp. In the following year (2021), everyone who applied for the camp is in a live meeting.
Two of the beans in the meeting have photos taken from elsewhere in the series.

Boffo's photo is taken from the minigame , judged by the javelin in his head.
Hapless' photo is taken from his promotional image.