Putz wrote:
Or you'll end up like me!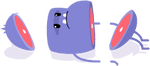 The
Claws
are an item that
Clod
wears. They are white and brown.
In the video, the claws are seen when the door opens, and the Psycho Killer kills the unseen character who opens the door offscreen.
In the game, the claws are seen when Clod is wearing them again.
He also used them to scratch the screen if you fail his second minigame.