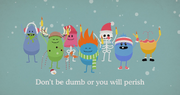 Deck the Halls is a Christmas version of Dumb Ways to Die. There is a so-called "songbook" (but actually only the lyrics) in PDF format an a video containing only the introduction and conclusion of the song. It stars Numpty, Hapless, Botch, Loopy, Lax, Dummkopf, Dippy and Putz as Santa at the end.
The video is a demo version of the full song, which needs to be bought on iTunes.
Lyrics (demo version)
Edit
Deck the halls with boughs of holly,

* Dumb, dumb, dumb, dumb, dumb,
dumb, dumb, dumb, dumb,

Tis' the season to be jolly,

Repeat (*)

(remaining lines removed in demo version)

Christmas is a time to cherish,

Repeat (*)

Don't be dumb or you will perish,

Repeat (*)
Lyrics (full version)
Edit
The full version of lyrics can be found in the songbook, but don't contains minor lyrics though.
Verse 1
Deck the halls with boughs of holly,
* Dumb, dumb, dumb, dumb, dumb,
dumb, dumb, dumb, dumb,
Tis' the season to be jolly,
Repeat (*)
Eat delicious decorations,
** Dumb, dumb, dumb,
dumb, dumb, dumb,
dumb, dumb, dumb,

Have internal complications,
Repeat (*)
---
Verse 2
Pull a cracker way too fast,
Repeat (*)
You'll be blown up by the blast,
Repeat (*)
Build a house from gingerbread,
Repeat (**)
Have it cave in on your head,
Repeat (*)
---
Bridge
Dumb, dumb, dumb, dumb, dumb, dumb, dumb,
dumb, dumb, dumb, dumb, dumb, dumb,
---
Verse 3
Biting down on mistletoe,
Repeat (*)
Extremely toxic, don't you know,
Repeat (*)
Overload a faulty socket,
Repeat (**)
Tree lights up just like a rocket,
Repeat (*)
---
Verse 4
Send yourself wrapped as a present,
Repeat (*)
Suffocating isn't pleasant,
Repeat (*)
Christmas is a time to cherish,
(Saxophone sound)
Don't be dumb or you will perish,
Repeat (*)
---
Ad-lib by Emily Lubitz
Dumb, dumb, dumb, dumb, dumb,
dumb, dumb, dumb, dumb,