Putz wrote:
Or you'll end up like me!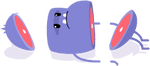 The Door is the item that is shown during Clod's clip.
Appearance
Edit
The door appears as a brown door with a peephole. The peephole has yellow lining around it.
In the video, we see the door. Then an unseen character opens it. We then see Clod.
In the game, there are three doors, two of them which have Clod, and one which has the panda.