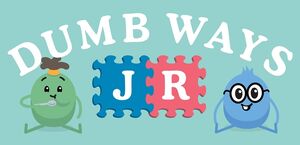 Dumb Ways JR is a spinoff of the iconic Dumb Ways to Die franchise, specifically aimed at a younger audience, and focusing on safety around the home, and also public transport.
As of January 24th 2019, there are only 4 apps available to purchase and play:
Loopy's Train Set
Boffo's Breakfast
Madcap's Plane
Zany's Hospital
The website went online on March 11th, 2016.
Characters
Edit
The whole serie is focused on what the characters did at a young age. The characters are:
The following characters are seen, but without being young version of themselves:
Putz wrote:
Or you'll end up like me!