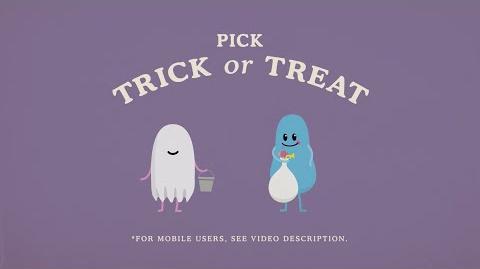 Dumb Ways to Halloween is another short video released on DumbWays2Die on October 29th 2014. Taking place in a spooky neighborhood, Mr. Ghost in a ghost costume doorknocks a household, to whom he meets Munchies, the cyan peanut character, seen holding a white bag of candy. The short allows viewers to choose one of two endings, "Trick" or "Treat". For mobile users they see "link description.
In the first ending, after having the door slammed in his face, Mr. Ghost takes to a chicken coop, and mischievously eggs the same house he visited. As he laughs, the chickens swarm all over him and tear him to shreds. Making Mr. Ghost lose his limbs. As a sight gag, Mr. Ghost actually levitates post-death dance.
In the second ending, Mr. Ghost is generously given candy; however, he gets crushed by the weight of the candy. Munchies embraces the entire pile of candy, and engulfs it down (along with Mr. Ghost with it), until he ends up big and fat enough to burst. Another sight gag for the post-death dance, Munchies is too big to actually dance, but Mr. Ghost pops out from Munchies' belly and looks around .