Here're train-themed extra minigames and only appear in the Quick Play option in Dumb Ways to Die 2 the Games.
Minigame 1
Edit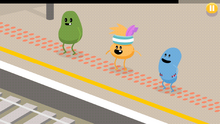 Stupa, Dunce and Bard try to walk past or stand on the yellow line. It is similar to Stand Back, where you need to make them move back. If they got to the line after an amount of time, a train comes and rips their faces off. The opposite will lead to a victory, having the characters dance, and then Bard realising he lost his train.

---
Minigame 2
Edit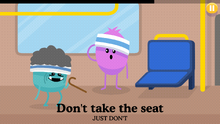 Zany is seen looking at Phyllis slowly walking towards the seat Zany is looking at. The objective is to not tap, and if you do, Zany sits, Phyllis falls, and her walking stick hits his face. If you don't tap, Phyllis sits down and Zany is rewarded with a large amount of Candy. It is just like Ninny's minigame Red Button Bonanza where you have to not press the red button.

---
Minigame 3
Edit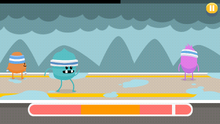 Dumbbell is walking across a station during a storm, with Zany and Madcap in the background. The objective is similar to Duck Duck Bear, where you need to tap at the right time to not fail. If you tap too early, too late or if you don't tap at all, Dumbbell falls flat on his face, loses a few teeth, bleeds and looks slowly at the train, which he missed. If you win, he tip-toes inside like a ballerina.

---
Putz wrote:
Or you'll end up like me!