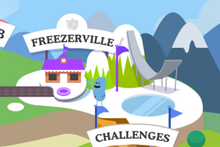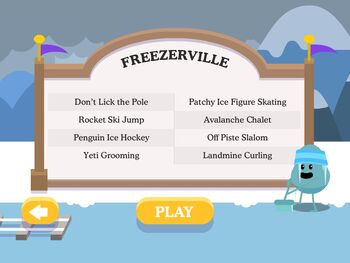 Freezerville is an alpine resort location, and deals with Arctic, winter and snowsports type games.
Don't Lick The Pole
Edit
Self explanatory, just don't do anything like Ninny's minigame. Doing nothing in the minigame correctly will result in Dumbbell being offered an ice cream cone. However, touch the screen, and Dumbbell will lick the pole and get his tongue stuck.

---
Patchy Ice Figure Skating
Edit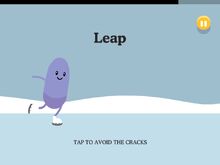 Tap to help Dingy jump over each crack in the ice. performing the jumps well will result in a standing ovation by a colony of penguins, tapping too early, too late, or not tapping at all will turn Dingy into a frozen figure, resulting in failure.

---
Rocket Ski Jump
Edit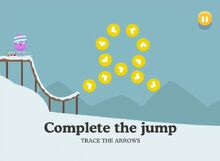 Trace over the bubble arrows to guide Zany through the jump safely. If you correctly, he follows the path. If you do it incorrectly, he blasts away into the sky, and you lose. It is a reminiscent to Mishap's game.
---
Avalanche Chalet
Edit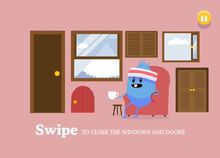 Tap all the doors and windows in Loopy's house to stop an avalanche from coming in to Loopy's house. If you close all the doors and windows, you can see Loopy turns off the light and having a cup of hot chocolate. Not closing all the doors and windows will cause an avalanche to engulf Loopy, resulting in failure.

---
Penguin Ice Hockey
Edit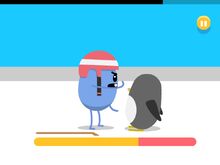 Help Ruckus defeat the penguin by tapping anywhere rapidly. Winning results in the penguin getting KO'ed. Losing results in Ruckus getting KO'ed.
It's not necessary to beat the timer, as it and the progress bar reaching either end will finish the game. The upper half results in winning, the lower half losing.

---
Off Piste Slalom
Edit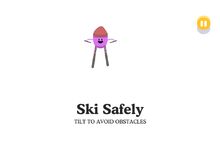 Help Zany ski down the mountain by tilting the screen to avoid the obstacles. Winning results in Zany falling into a hot tub to greet Loopy there as well. If you run into an object, Zany rolls down the mountain in a giant snowball, resulting in failure.

---
Yeti Grooming
Edit
Swipe all of the bugs and pink grot away to have Madcap groom the Yeti safely. The Yeti turn on Madcap with intent to attack him if you don't groom all the bugs, resulting in failure. If you win the minigame, you see the Yeti amazed by the groom.

---
Landmine Curling
Edit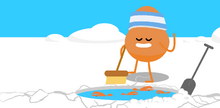 Help Madcap guide the landmine by swiping the screen rapidly. Winning results in the landmine falling into the water and blowing up a few piranhas. If you don't do it completely, Madcap will be blown up, resulting in failure. It is reminiscent to Dippy's second game where you must guide his boat to the island.