These games are playable when travelling between worlds.
Occasionally a train would stop between stations (each one modelled after an existing station on the Melbourne City loop: Melbourne Central, Parliament, Flinders Street and Southern Cross), and one of the following mini-games would start. Additional points from 1 to 100 bonus points can be received through completing such mini-game. It is also possible to earn more than 100 points through these mini-games through passing through stations multiple times.
The following video is a commercial for these games.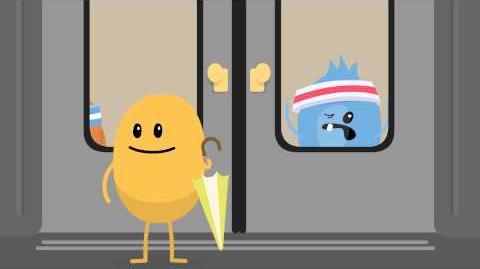 ---
Clear the doors
Edit
Tap on the characters one by one so they move and let the Phyllis onto the platform. If the player doesn't clear the doors, she will get cut by the door.

---
Count to ten!
Edit
Just tap the screen ten times to let the Knucklehead cross the tracks.

If not tapped or taping slowly, Knucklehead will open the boomgates and a train got him
Hint for this game
Edit
Use multiple fingers to tap the screen. Alternate or cycle through them!
---
Stay off the tracks!
Edit
Loopy, Dumbbell, Madcap, and Zany are all standing at the platform. Either one or two of them drop their phone and hold your finger on them to hold them back because if you let them get their phones they will be ran over by the train.

---
Don't force the doors
Edit
Tap on Loopy's limbs to stop them from being caught in the train.

If you win, Loopy will appeared in a sad mood.
If you lose,Loopy will just be stuck and Madcap and Zany frowned