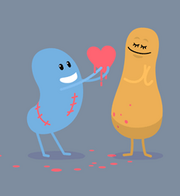 The heart was the item Dunce cut out to attract Ninny in Dumb Ways to Valentine. He dances with it on his hands, then flops down.
Dunce's Heart was also seen in The game. Only seen in the Minigame Organize; The player would have to rotate it (or not) then put it in the top right corner of Dunce's Body.
After Dunce dies, his heart is still shown at the epilogue.