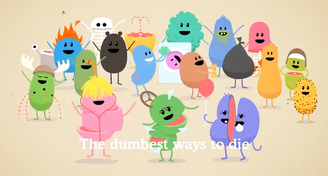 Group Five contains the final five characters in Dumb Ways to Die. Instead of containing four characters, it contains five.

Characters
Edit
The charcters in Group Five are:
Similarities and Differences
Edit
Almost all the Fifth Group characters are different colors.
This group contains five characters instead of four.
This is the only group to have every character singing.
Doofus is the only character not to suffer a bloody death in this group.

He is also only character not to have a plush.

Botch is a tertiary dancer; Doofus is a second dancer; Stumble, Bonehead and Putz are standard dancers.
All the characters are males.