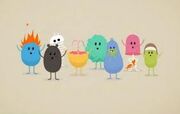 Group Two refers to the fifth to eighth characters in the Dumb Ways to Die video.
The image opposite shows both group one and two.

Characters
Edit
The charcters in Group Two are:
Similarities and Differences
Edit
All of these characters are different colors, with only Dimwit (before death) and Lax with the same color.
All of these characters are males.
All of these characters also have a second minigame in the app.
Dimwit is a standard dancer, Dummkopf and Lax are second dancers, and Stupe is a solo dancer.
Dummkopf is the only non-singing character on this group, since he got electrocuted.

He is also the only character with a plush.