The Level Crossing is the structure Bonehead drove around.
Appearance
Edit
The level crossing appears as a standard level crossing - Flashing lights (website only), a red- and white-striped boomgate, and a pole supporting all of it.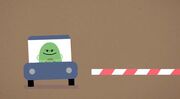 In the video, Bonehead is seen waiting boredly at a boomgate. He jumps up, and then drives around them. A train hits him, and then passes, just leaving the level crossing, sitting there.

The player must spell "PATIENCE" within the time limit or Bonehead will drive around them, this time impatiently.
On the web, the level crossing appears in full view. Also, tracks are in front of it.