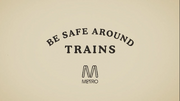 Metro Trains Melbourne (aka Metro), is the train station company that started it all: created the PSA which is all about train safety.
The lyrics eventually show that being unsafe around trains is a dumb way to die and that there are so many dumb ways to die.
Although the video was created in Australia, the lyrics can apply to any country worldwide.
Dumb Ways To Die
Many awards for the video were won, including Webby awards and Gold Lions.
On Nov 26th 2012, the DumbWays2Die channel made a sing-along karaoke version of the song.
In late 2013, the clothing store Hot Topic distributed T-shirts of Dumb Ways To Die.
During December 2013, the characters in Dumb Ways To Die got a Holiday look on the beach. Other pictures of this holiday DWTD pictures can be found at this link: [1]
Dumb Ways to Die is also celebrated during the annual Rail Safety Week events, and ranged from interactive pledging activities (the red button, an interactive game) through to meet-and-greets.
The Dumb Ways to Die App and Dumb Ways to Die 2 The Games are the only games made by Metro.
Other MTM info
Metro Trains Melbourne has been running since 2009.
Notable train stations synonymous with Metro include Melbourne Central and Flinders Street Station (a mural dedicated to Dumb Ways to Die can be seen in the station concourse)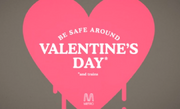 On Febuary 14th, 2014, Metro (or simply a clip by DumbWays2Die) uploaded a clip to YouTube. It showed Dunce and Ninny as a couple, and Dunce rips his heart out, and then flops dead.
Ice Bucket Challenge
Metro Trains has also participated in the Ice Bucket Challenge through the Dumb Ways to Die campaign. Stumble is seen near the edge of the platform, where he happily douses himself with the icy water before falling off and getting hit by the train.