Money or Dollars is the item Dunce shakes around. It isn't shown in Dumb Ways to Valentine, where he holds his heart.
Appearance
[
]
It appears as green sheets of paper, similar to playing cards.
Video
[
]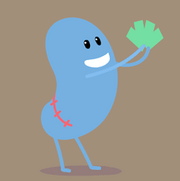 In the video, Dunce is shaking around his money from his kidneys, which were sold on the internet.
Game
[
]
In the game, Dunce shakes his money around, and when the player loses a life, he throws it up into the air and dies.