Putz wrote:
Or you'll end up like me!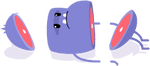 The Moose is the animal that falls in love with Botch. This is one of the times when Botch has his eyes open. She is the only animal with a confirmed gender.
In the game, the Moose only shows up at the end if the player wins. The Moose will fall in love with Botch if the player wins. If they fail, the Moose will not appear and Botch gets shot and dies.
In Botch's other minigame, she appears again with the Botch that is riding her. If the jump is missed, too early or too late, the moose runs into the obstacle with no valid jump, the moose stops running that result in the Botch get thrown off, resulting in failure. If the moose jumps over all of the obstacles, the moose falls in love with Botch again.