The Phones are the objects Hapless, Stumble, Phoney, Loopy, Dumbbell, Madcap, and Zany own.
Appearance
Edit

Hapless and Phoney's phone resembles an iPhone, becuase of it's shape.
Stumble's phone resembles an iPod, becuase of its shape, in addition to the fact that iPods are usually worn with earbuds, which Stumble is doing.
Unlike other phones, Dumbbell's phone is seen as white phone in Hold them back mini-game.
Also, Madcap's phone is white in Whale Tooth Cleaning minigame.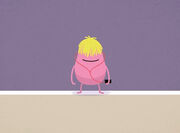 In DWtD, Stumble's phone is seen falling off the platform and getting run over with him. Stumble doesn't have his phone with him in the chorus.

The phone only appears for a brief amount of time, and during that time, Hapless talks into it.
In Dumb Ways to Die 2 the Games, Dumbbell have a white phone despite other characters' phone regularly being the black color.
Other Appearances
Edit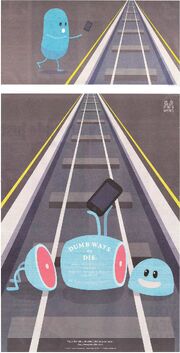 Phoney also is frequently seen carrying and talking on his mobile phone. His death is being run over by a train to rescue his phone from the same fate.