The Pilot's Cap is an item Stupe wore in both the Dumb Ways to Die video and the app.
Appearance
Edit
It is a brown cap which is cream and puffy on the inside.
In the video
Edit
Stupe is seen flying, and then does a barrel roll and he loses his head, but his cap does not be take off from his head apart.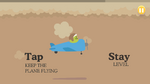 Stupe is seen wearing his cap once again in his minigame Flappy Stupe.

Holiday special
Edit

In one of the Holiday pics introduced by Metro, Stupe's pilot cap is replaced by a Santa Hat.