Run across the tracks between the platforms is the 21st and last line in the song in group 5.
Characterization
Edit

The line is characterized by a male purple character with hair on his head. Putz has only two bottom teeth, slouches sideways, and he holds a balloon.

In the video, Putz is seen holding a balloon. It escapes his hand, and he reaches for it with no luck. So he chases after it, getting hit by a train in the process.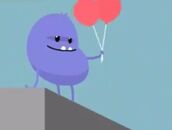 In the game, the player must drag the balloons to Putz's hand. If the player fails, he will get hit again. If the player wins, Putz will wait at the station and the train will pass by. There can be 2, 3 or 4 balloons.
Putz has a new game which involves him flying with several balloons. You must hold the screen and avoid the birds popping the balloons. If you dodge all the birds, Putz will land on the train station safely. Otherwise, Putz will land on the train tracks and get hit by a train again, resulting in failure.

This features the last character of the song, Putz.
He doesn't actually get hit by the train until the lyrics about how the train lyrics don't rhyme.
He is the last standard dancer in the song.
On dumbwaystodie.com, he is cut horizontally in three parts by the train, not vertically in half as in the music video.
In later versions of the game, rather than holding the number of balloons displayed on the screen, he appears to be holding more than that number. For example, if there are 2 balloons the player must give to him, after the player successfully gives him the balloons, there will be more than 2 balloons in his hands.