| | |
| --- | --- |
| Señor Redcape's name might be changed when Señor Redcape's official name has been announced by Metro! | |
Señor Redcape's gender is not confirmed by Metro yet, so the gender given in the article is decided by the Dumb Ways to Die Wiki community.
Be sure Señor Redcape may not be a Gentleman in the DWtD series!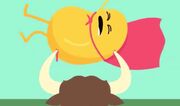 Señor Redcape is a yellow character introduced in Dumb Ways to Die - Running of the Bulls as a standalone character. Unlike other characters, he is not from the original music video.
In the course of the video, he appears happy and calm at first in his clip, then with a frightened expression, he is running from bulls before getting attacked by the bull's horns.

He is a yellow character, like Doofus and Hapless.

In common, all three characters died from animals.

He is introduced in a video that isn't the music video. The other characters are Numpty's Son all the extra characters from Melbourne International Film Festival and any app-exclusive character. Señor Redcape is the first character to debut outside the original music video.
He has the same shape as Stumble, just a bit thinner.