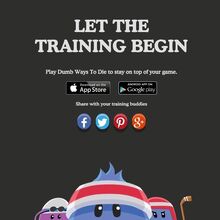 The Sports Trio was a character group formerly revealed in the overhaul of the dumbwaystodie.com website.
There were three characters featured:
Loopy, the periwinkle one with hair, wearing a white and red sweatband and bearing a resemblance to Lax and Putz. Being featured 200, 300 times, he currently takes the lead!
Skellieflop, the mauve one on the left wearing a swimmers cap and goggles, and bearing a resemblance to Bungle without the clothes dryer, in swimmers gear and with the skeletal lower half, complete with a piranha.
Ruckus, another periwinkle one on the right, wearing a red and white hockey helmet, and holding up a bent hockey stick.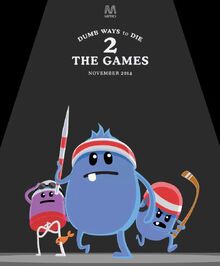 On October 24th 2014, the three characters' appearances were revealed, though without further names or details released. On November 14th, the main character of the Sports Trio has a name revealed - Loopy.
Skellieflop
Edit